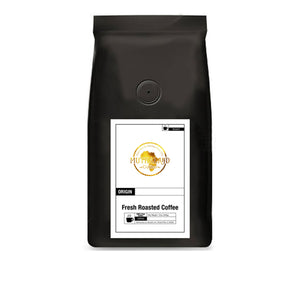 Brazil Santos
Regular price $18.99 Sale
These single origin beans imported from Brazil are carefully roasted at our facility and well known by espresso lovers since they offer a very rich crema. They offer wonderful floral aroma hints along with an aroma of vanilla & almond plus sweet chocolate, cinnamon and even a slight hint of strawberry. Perfect for espresso or drip coffee makers.
Tasting notes include nutty hints of walnut, cocoa, and a mild sweet toffee aftertaste. This coffee is grown at an elevation of 2,700 feet in the south-eastern State of Minas Gerais which is on the northern border of Rio de Janeiro. It's popular as a dark roast coffee and makes great espresso with it's unique espresso type flavors. It's also a popular blend ingredient for cold brew coffees with a malt texture. Brazil is in South America. The country is located below Colombia and to the east of Peru. Brazil is the world's largest producer of coffee.
Certification/Grading: Natural

Roast: Medium
Tasting Profile: Elegant, smooth cup with cocoa notes.
Grower: Fazenda Santa Barbara, Sao Francisco, Santo Antonio
Variety: Catuai and Mundo Novo
Region: Parana and Sao Paulo Brazil
Altitude: 750-1050 M
Soil Type: Volcanic Loam
Process: Pulped natural and dried in the Sun